Box 2282, Bahrain
CR42100
v.150725.6
(hit counters off
till site upgrade)

Services/
Home Theatre
IE tested
@ 1024x768
Pls zoom in/out
to fill your screen
width without folding
the paragraph lines!
In smartphone's
Browser Settings,
Text Booster OFF
gives neater
text flow
12345678234567
no
bull
site
Nigel D. Goddard
MA Cantab - Engineering
MA - Operational Research
Hi! - introducing Avalon, our services and some of my personal favourite products -
selected after 43 years of closely following the technology, industry and personalities.
In all activities, I want Avalon to remain approachable, so if you - Dear Reader! - are a
potential Client, please try and contact me personally to discuss your wishes, thanks.
Avalon specialises in....
RETAIL of high-end Audio and AV at competitive prices + support

DESIGN / SUPPLY / INSTALLATION of Home Theatre and high
quality Audio-Video, Control, Lighting and Home Automation in...
luxury homes & developments, palaces, gardens, boutiques, restaurants
ocean yachts, commercial & acoustic spaces (hotels, malls, gyms, mosques)
In Bahrain & elsewhere, combining with top UK & US professionals as needed,
we offer you a focussed, personal service to maximise your enjoyment.
Avalon's MD is also an experienced, highly qualified engineer.
We constantly evaluate and compare products and their suppliers
for reliability, performance, value for money and support - so using
Avalon will make sense if all of these factors are important to you too.
Avalon can also provide CONSULTANCY and DESIGN-ONLY. Our advice is based
on technical merit + decades of practical experience + industry networking...
should you appreciate this(!). More thorough than lifestyle magazines, we can
specify and explain why, often putting our own money where our mouth is.
So if interested, please do call - we'll be delighted to help you choose and save time.
Mission
To thrill clients with Best Performance for their budgets and tastes,
and to ensure their systems deliver full potential.
Building a Villa or more? - your room dimensions affect acoustics! Shape, materials and
layout all matter too - we can suggest refinements if you call us early, just as your
interior designer does after your architect's first plan: as team work, not as competition.
Cover expenses and we'll travel to you - especially if you...
a) don't have local specialists (or prefer non-locals for higher privacy) - and
b) are committed to completing your project soon - and
c) will genuinely consider working with us.
We can also provide select audio-video & home-technology items besides those on this
website, provided their manufacturers agree to give us adequate and fair support.
As our expat clients move worldwide, we can easily export if your local supply is difficult
(by TNT or DHL Global Forwarding) + we can set up and provide support as required.
1 - God Bless Mum&Dad!
2 - Bahraini rockers
3 - very fast F1 loudspeakers
4 - Bahrain photos - taking more in 2015!...
1 - gym acoustical install
2 - fan club traffic jam
3 - Palace Hotel install
4 - original Meat Co. - full audio & disco install
Contact
Normal times: Saturday-Thursday, 9:30am-2pm & 4-7pm (GMT+3)
Demonstrations by appointment. Please contact by mobile, text or email
until acknowledged! (I may be driving or in a loud situation, etc) - thanks.
tel (+973) 17 230 322
mob (+973) 396 07470
fax (+973) 17 250 322 by prior arrangement
mail Avalon, Box 2282, Manama, BAHRAIN, Arabian Gulf
email Nigel@AvalonConsultants.com
Upgrade
We're upgrading this site asap and changing our host after unacceptable service.
If button links to other pages are not showing at top of this page - try clicking:
PRODUCTS & SERVICES & About us - apologies.
Hit counter to resume when site upgraded
(13800 before 2015-07-24)
(12983 before visit flags started)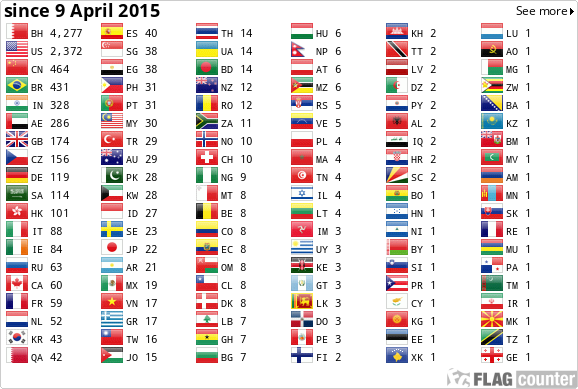 activities: audio, video, lighting, control, home theatre, custom install, installation, home automation, smart systems, smarthome, AV, audio-video, audio-visual, audiophile, high-end, state-of-the-art, hi-fi, multiroom, distributed, design, supply, export, consultancy, programming, support, security, acoustics, integration, demonstration, ex-dem, crowdfunding, CEDIA,
status: dealer, authorised distributor, supplier, integrator, installer, designer, expert, consultant, specialist,
countries: Middle East, Arabian Gulf, Bahrain, Saudi Arabia, Qatar, Iran, Kuwait, Abu Dhabi, Dubai, UAE, Oman, Pakistan, India, Sri Lanka, Maldives, Seychelles, Mauritius, Reunion, Myanmar, Thailand, Malaysia, Singapore, Indonesia, Brunei, China, Turkey, Cyprus, Lebanon, Jordan, Egypt, Ethiopia, Kenya, Russia, Azerbaijan, Kazakhstan, Turkmenistan, Hong Kong, Korea, Philippines, South Africa, international, Amwaj,
sites: villa, residential, apartment, palace, development, disco, discotheque, dancefloor, club, nightclub, hotel, reception, foyer, restaurant, boutique, shop, shopping mall, commercial, gym, gymnasium, architectural, garden, landscape, outdoor, weatherproof, bathroom, swimming pool, marine, boat, yacht, superyacht,
suppliers: Linn, Exakt, Space Optimisation, Klimax, Akurate, Majik, Sondek, LP12, Krell, Crestron, Centralite, Lutron, Opus, Stewart, Symposium, Draper, Gallo, SIM2, Dreamvision, Origin Live, AVA Media, Zara, DEQX, Graham Slee, Isotek, PSA, PSAudio, PS Audio, P S Audio, LessLoss, Spectron, Sonance, iPort, invisible speaker, Stax, Symposium, TEAD, Tom Evans,
generics: touchscreen, touchpanel, radio remote, projector, 4K projection, screen, power conditioner, conditioning, regenerator, loudspeaker, sub, subwoofer, electrostatic speaker, headphones, amplifier, balanced cable, cabling, HDMI, interconnect, streamer, streaming, DAC, ADC, DSP, digital processor, shelves, shelving, vibration isolation shelf, rollerblock, room treatment, soundproof, sound transmission, public address, reference, bespoke, approved, authorized, in-wall, ceiling, concealed, masked, masking, curved, HDR, UHD, SUHD, resolution, definition, cinema seating, open infinite baffle, OB, IB

123456789